The actress is keeping busy in solo isolation
Emily Atack is very much looking forward to the time we can all go out again not least because she has a stand-up tour planned for the autumn. But mainly, as the 30-year-old tells us over the phone, she's just looking forward to when," We can all go out, have a drink and just give ourselves a big old pat on the back and think, `Oh, my God, we got through it."The first round is on us, Em… "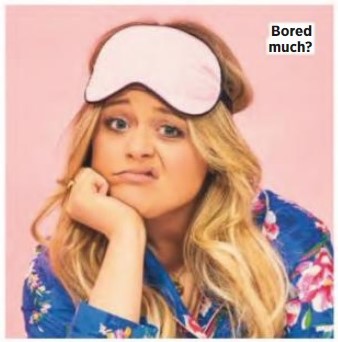 How are you coping with solo self-isolating?
It is very difficult, but I'm constantly connected with friends and family. It is tough, but everybody's in the same boat and we'll get through it.
How are you keeping in touch with everyone?
It's literal just FaceTime and Zoom. It's nice because it still gives me a reason to put my make-up on. I still like to look nice for my friends and family. I think they prefer seeing me with a bit of make-up and some clothes on, rather than no bra and non-conditioned hair. They'd be like, "Oh God, she's having a breakdown."
We're impressed. We ditched make-up and bras on day one…
To be honest, it's 1.34 pm and I've only just popped a bra on…(Laughs).
Have you discovered any new skills?
I haven't resorted to trying a new skill yet . I'm writing my tour, I read, and I love cooking, so I've been doing a bit more of that. I'm not drinking as much as I thought I would I only polish off half a bottle of wine in one sitting, rather than three!
Why did you call your upcoming tour "Emily Atack Has Left The Group"?
Originally, it was going to be called "Can't-Wait To Cancel" but I had to change it because obviously, that would be way too insensitive now. It's about coming into your thirties and how much pleasure you get out of canceling plans. You know when a WhatsApp group fora hen do is created, all you want to do is leave it? Now I'm joining' louse Party, I'm joining Zoom I'm joining groups, not leaving them. it's so ironic!